Today at our assembly we celebrated some amazing achievements by our students in mathematics.
The Newcastle Permanent Maths competition was held last term with over 16,000 students from 294 schools take part. All our students in years 5 and 6 had the opportunity to participate. We received terrific results with 3 students placing in the top 100 of their grade and earning a high distinction. Congratulations to Lachlan who came 5th, Dan 17th and Eva 44th. Lachlan will also recieve a district prize at a special ceremony on Wednesday for his fantastic results.
We also had many of our students place in the top 15% earning themselves a distinction. Well done to Zane, Jack, Joseph, Joe, Sarah, Heidi, Adrian, Lucas, Noah and Dayna.
Students who placed in the top 30% received a certificate of merit. Congratulations to Max, Cala, Declan, Demaris and Rory.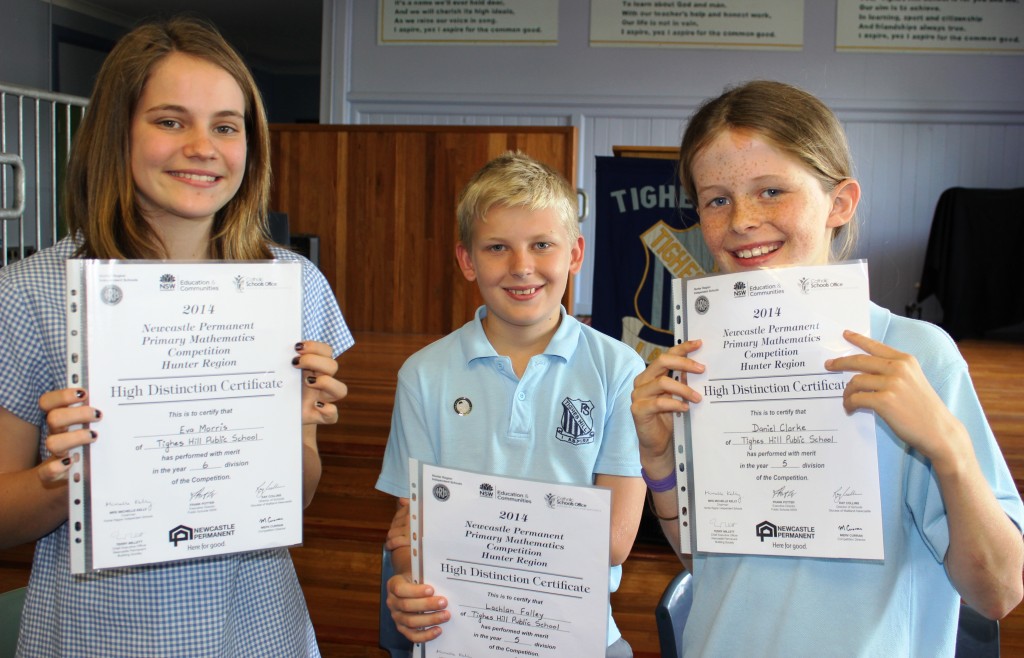 Students also received their achievement certificates for the Australasian Problem Solving Maths Olympiad. This year over 30,000 students took part in the junior division. Well done to Max, who received our encouragement award for his effort and application during the olympiads. Congratulations to Dayna, Eva and Max who placed in the top 25% of all participants. This year the scores were very close within our team. Well done to Lachlan and Dan who tied for highest individual score and also placed in the top 10% of all participants. Fantastic results!