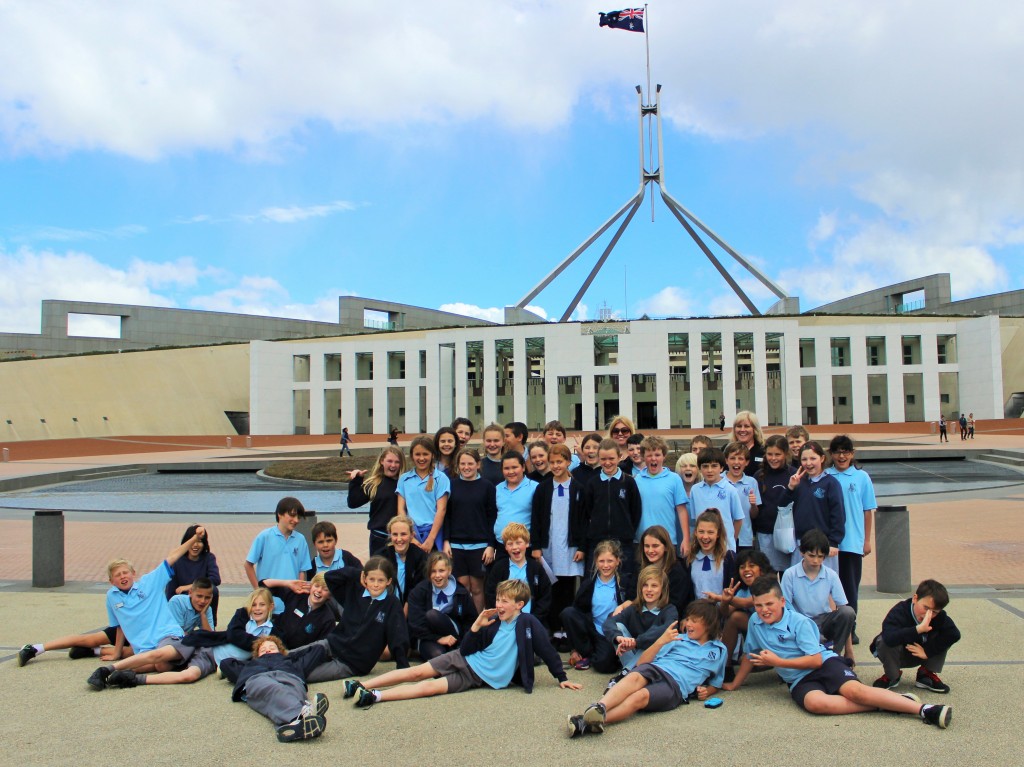 After a couple of comfort stops and lunch in the Rose Gardens, our first Canberra activity was a visit to Parliament House. Before our tour, we visited the roof to check out the amazing view. We were then taken on a tour by a lovely guide named John, who shared his wealth of knowledge with us and answered some excellent questions from students. At the end of the tour we participated in a parliament role-play (video below) where students certainly got into character! When leaving Parliament House, some of our group made a beeline for the camera crew who happened to be filming outside. The students were excited to meet and get some photos with Seven political reporter Mark Riley. I wonder if we made the 6pm news?


It was then time to set off for our accommodation at Camp Cottermouth. After settling in and enjoying dinner and dessert, it was time for Games Night – organised by the one and only Mrs Bowman. Students got into groups of 5 and selected 1 team member for each cryptic clue given: most fashionable; the strongest; the bravest; biggest mouth; and most wrapped up in themselves. Each clue corresponded to a challenge to complete – the strongest took part in a 'plank-off'; the biggest mouth had to eat a dry weetbix; the bravest had to blow up a balloon until it burst; the most fashionable had an outfit and accessories designed for them out of newspaper and the most wrapped up in themselves had to make themselves into a mummy using toilet paper (the video below is priceless!). Bonus points were also awarded during 2 dance-offs. Once all the toilet paper and newspaper was cleaned up, it was Milo and biscuits for supper then off to bed!


Stay tuned for the next post… Day 2!